May 6 – July 13, 2020: Ruth & Sarah participate in the 'Complicated Grief & Trauma – Skill Building Education' webinar series with Eugene Dufour on behalf of HPCO.
April 30, 2020: Ruth & Sarah present a special webinar on 'Compassionate End of Life Planning & Care Support' to Family Councils Ontario
April 16, 2020: Ruth & Sarah successfully complete six LEAP modules provided online by Pallium Canada.
April 11, 2020: The Globe & Mail article 'As Visiting Restrictions increase, so do fears of missing the chance to say goodbye to loved ones'. Sarah is quoted; https://www.theglobeandmail.com/canada/article-as-visiting-restrictions-increase-so-do-fears-of-missing-the-chance/?fbclid=IwAR1yuRC4-g2jsSB1JBbzMJ2PVcTH5-XP7CKh9lr8TkWFOrNHBVGRaA5Nw4E
April 9, 2020: Posting on WILLOW's instagram (#willoweol) of our endorsement of their online program after being asked to trial the course and provide feedback. https://www.instagram.com/p/B-xWhUqAsJU/?igshid=13fre58ra53hp
March 2, 2020: WISHSTONE are approved members of the End of Life Doula Association of Canada: https://endoflifedoulaassociation.org/membership-roster/sarah-farr/
February 13, 2020 – Sarah and Ruth featured on CHCH TV's "Inside the Story" segment about supporting individuals and families who request MAiD (Medical Assistance in Dying); https://www.youtube.com/watch?v=diNPJSBVlV8
February 5, 2020: Ruth & Sarah attend the Hospice Palliative Care Ontario Webinar – Back to Basics: Introducing the New Advance Care Planning Framework
February 4, 2020 – Panel members at Hospice Toronto Volunteer Education & Support Session about the Death Movement
January 24 & 25, 2020: Ruth & Sarah attend 'Dying Dialogues' – a mini-symposium on death, dying and design as part of the Dying Event Series running in conjunction with DesignTO
November 2019: Sarah & Ruth complete The Fundamentals of Palliative Care at Scarborough Centre for Healthy Communities
October 2019 – Ruth completes Cognitive Behavioural Therapy for Depression Among Older Adults, through the Factor-Inwentash School of Social Work at the University of Toronto
October 2019 – Sarah appointed to The Board for the Cedarhurst Dementia Care Home, Toronto.
August 27, 2019 – Ruth successfully completes all five modules of the Hospice Palliative Care Ontario (HPCO) Advance Care Planning, Goals of Care and Consent e-learning competency training program. https://www.hpco.ca/acp-hcc-hsp/
July 31, 2019 – Sarah completes the TLC Teacher Trainer Course from the Soul Midwives School, UK
June 13, 2019 – Guest speakers at The Family Council Ontario Conference, North York
May 27, 2019 – Guest Speakers at Belmont House Networking Luncheon
May 22, 2019 – Ruth gains certification in Therapeutic Touch (Level 1)
May 14, 2019 – Guest speakers at ALS Caregiver Program, Toronto
March 6, 2019 – Ryerson University, The Life Institute: Ruth and Sarah are guest speakers in the End of Life Decisions Class.
March 28-28, 2019 – Ruth & Sarah participate in conflict resolution workshop by the Family Council of Ontario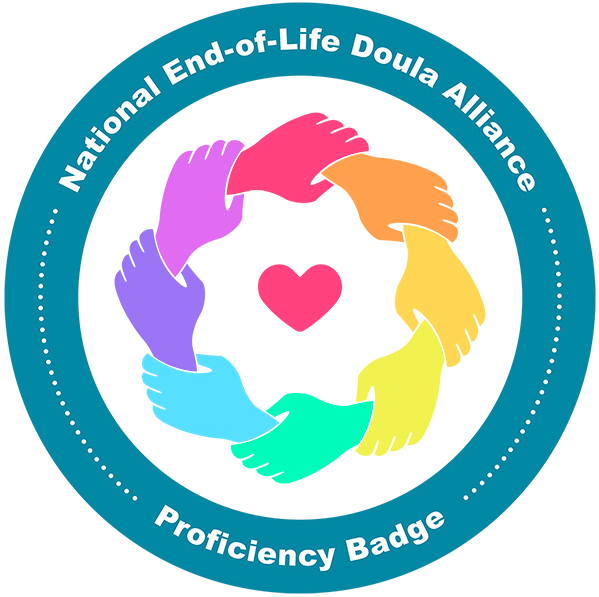 March 1, 2019 – Ruth and Sarah earn Proficiency Badge from the National End of Life Doula Alliance. Press Release
January 17, 2019 – Ruth and Sarah present at The Sprint Senior: Navigating Care Presentation for the LGBTQ Caregiver Program